OtterBox is in the innovation game, and we cooked up something extra special this time. Meet a whole new way to hold your phone — OtterGrip. This mobile marvel has its own grip that pulls out and presses flat in place, making it hand friendly. And since we built in an array of magnets, it's MagSafe ready. OtterGrip is a fusion of the practical and the magical, a smart surprise that gives you a deeper connection with your device.


Protection
Quality, durability and purposeful innovation.


Grip
Built-in finger grip that presses flat to slip in and out of pockets flawlessly.


MagSafe
Just click it. Works seamlessly with MagSafe accessories.
Genius meets simplicity
The most radical ideas are often the most obvious ones, and the genius thing about the OtterGrip MagSafe phone grip is its simplicity. Yes, it's a grip phone case with a built-in hand hold that lets you grab hold and go without any hesitation about dropping it. But the clever part—the grip hides away into the case, leaving no bumps on the back. When you need to slip it into your pocket, park it on a MagSafe charger or snap on a MagSafe wallet, this iPhone grip case works like any sleek Symmetry Series and won't get in your way.
Easy to use and easy on the eyes
OtterGrip is designed to turn heads. From its ultra-sleek profile to its bold bouquet of colors, this finger grip phone case has a modern look with drop protection born from our true-grit heritage. Comfort comes standard, too. The grip is made with liquid silicon and ergonomically engineered to feel just right on your fingers. On the defensive side, antimicrobial technology is imbedded into select cases to help stop germs from making your case their home sweet home.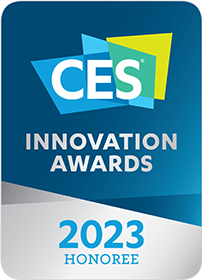 The Honor is Ours - 2023 CES Innovation Award Honoree
Snapping selfies, scrolling feeds, charging wirelessly, accessorizing magnetically, standing out — OtterGrip is the new standard for interaction and expression. And we're not alone in our excitement about this release. It earned a 2023 CES Innovation Award with all bragging rights included.